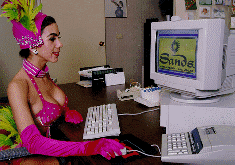 Vegas Links

Vegas ticket outlets

Ripping Records Ticket and Record Emporium, South Bridge,Edinburgh. For all your Vegas ticket buying requirements and some nifty c.d.s too.
Tickets Scotland at 127 Rose St, Edinburgh and 239 Argyle St, Glasgow.
Renegade Online - Internet only ticket Retailer.


Hot clubs for hipsters and hepcats

Club Montepulciano Londons stylish and critically acclaimed lounge club.
Club Vegas Visit our Dutch cousins groovy website.
Motherfunk - Edinburghs Top Tuesday Night Out
Lady Luck Club London's sleazy & stylish retro club

Swing dance clubs
Flyright Susan & Gary's excellent east coast swing dance company
Boogie Nights Swing Dance Tuition in Edinburgh
Swingdancescotland Yasmin's Edinburgh-based swing dance classes
Shoe Swing Swing dance lessons & social dance night every Wednesday in Edinburgh hosted by Lenny Love

Swinging bands

Fat Sams Swing Band (Scotland) Scotlands foremost live (9 piece) swing and jump jive band.
Big Bad Voodoo Daddy (USA) excellent site from one of the west coast swing scenes original and best acts.
Royal Crown Revue (USA) perhaps the originators of the neo swing scene stateside.
Brian Setzer Orchestra (USA) Former Stray Cats main man Brian Setzers excellent swing orchestra.
Cherry Poppin Daddies (USA) zoot suit riot straight outta Oregon.
Lavay Smith & Her Red Hot Skillet Lickers (USA) swinging San Francisco cats.
Ray Gelato Giants (UK) Top quality swing from this side of the big pond.
Paris Combo (France) Parisian jazz/swing with a hint of Django Rheinhart
Jet Set Six (USA) NYC swing/lounge/60's go-go pop
Yalloppin' Hounds (USA) New York steet swing/hip-hop/jazz crossover
The Good Fellas (Italy) gangster swing from the old country
HB Radke & The Jet City Swingers (USA) Seattle lounge lizards
Big Kahuna & The Copa City Cat Pack (USA) Hawaiin swing
Dave's True Story (USA) Another great band from New York!
Cocktail Angst NYC lounge for hipsters
Swingerhead Orlando's answer to Bobby Darin, Michael Andrew and his swingin' combo Swingerhead
Jimmy Luxury and the Tommy Rome Orchestra Hip-hop swing crossover from a fantastic Philadelphia-based combo

Record Shops for cool cats and kittens

Amazon - Search facility and comprehensive selection of swing, lounge, country & more
Hep Cat Records Great stateside record label with a top selection of swing, lounge, exotica, country and more. Highly recommended for sourcing the best U.S. neo-swing material

Retro threads, cool clothes and stylish shoes

Edinburgh
Armstrongs, 83 The Grassmarket, Edinburgh.
Holly Campbell Mitchell, Talented Edinburgh-based fashion designer with retro twist.
The Dress Hire Company Hire designer and cocktail dresses, prom gowns, ball gowns and accessories.

International
Daddy-Os Top quality retro clothes from the USA.
Stacy Adams shoes Stylish and authentic retro footwear.
Zoot suits Authentic zoot suits and swinging threads.

Retro culture, kitsch art, media etc

Atomic Magazine The essential guide to the swing scene stateside and retro culture generally.
Shag is as an artist based on the west coast of the USA. His art captures the spirit of the lounge aesthetic perfectly. Highly recommended. Check him out.
Casa del ionesco Frankie Sumatra's alter ego's site. Low culture for highbrows
Ministry of Burlesque An online forum and focal point for the UK's ever-expanding burlesque community
Nicola Cairns is an up and coming Edinburgh artist who's noirish, stylish portraits of jazz musicians, femme fatales and hipsters are becoming highly collectable.
The World Famous Pontani Sisters New York City based dance troupe / Showgirls.
TommyWhiteTie The Foremost New York Lounge and Swing Community.
Other

Warpro Lighting & Production facilities- We supply Vegas!
The Venue Nightclub & Concert hall in Dumfries
Edinburgh Gobo Projector Hire - Brand logo projection specialists
Aberdeen Projector Hire - LCD data / video projector hire
Glasgow Projector Hire - LCD data / video / powerpoint computer projector hire
Freshly Squeezed Music - Brightons Newest Record Label
Edinburgh247.com - Your Local Portal
The Hermitage Ensemble - Classical piano trio for hire 


| | | |
| --- | --- | --- |
| | | |